Steve Wilson/Lewis Nash Recording Released August 5th
Released! MCGJazz has released the debut recording by Steve Wilson/Lewis Nash Duo. Duologue's 11 tracks are well chosen to illustrate the range Wilson and Nash are capable of achieving. The two virtuosos achieve a rare connection throughout this recording, one that listeners will easily embrace along with them.
Read the full press release
Steve Wilson and Wilsonian's Grain Live at the Village Vanguard
In May, Steve recorded live at the Village Vanguard in NYC, and is now in the process of preparing it for release in early 2015. We'll be posting news soon about his kickstarter campaign, please check back here for more information. And, if you are not currently on his mailing list, please sign up right here at his website.
| | |
| --- | --- |
| | |




9/20/2014
Monterey Jazz Festival, Monterey, CA

9/26/2014
Left Alone, Ashiya, Japan

9/27/2014
Layla, Himeji, Japan

9/28/2014
Mr. Kelly's, Osasa, Japan

9/29/2014
Speak Low, Kagawa, Japan

10/1/2014
Okayama International Hotel, Okayama, Japan

10/2/2014
New Combo, Fukuoka, Japan

10/3/2014
Speak Low, Hiroshima, Japan

10/4/2014
Body & Soul, Tokyo, Japan

10/8/2014
Jazz Standard, 116 E. 27th St NY, NY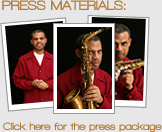 "a complete lyricist and adventurer as an improviser... He interprets my compositions as I would have myself if I played his horns."
Chick Corea, Rendezvous In NY