Kickstarter Campaign Going On Now!
Steve has re-launched his Kickstarter campaign, it runs through Tuesday, November 25th at 11:59pm.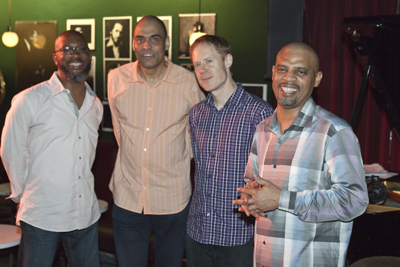 This fan-sourcing effort seeks to fund the release of Wilson's riveting recording from the Village Vanguard in NYC. 'Steve Wilson & Wilsonian's Grain', with Orrin Evans, Ugonna Okegwo and Bill Stewart, performed for six nights at the famed venue this past May, and recorded the final two nights of the run. The Kickstarter funds will help to pay for the production costs, recording and mixing fees, musicians, and more. Pledge Levels include the opportunity for a limited number of fans to receive a private lesson from Steve (in person in NYC or via skype), autographed lead sheets, Steve's Guide to Musicianship (For Any Music Lover), concert tickets, dinner with Steve. There are opportunities to become and Associate Producer or Executive Producer of the CD and much more!
In addition to seeking necessary financial assistance, Wilson is hoping to connect more with his loyal fans – YOU - via Kickstarter. This will be Wilson's first quartet release since 2003 and he looks forward to including his supporters on his new musical adventure.
Here's one of the tunes from the recording, a brand new tune by Steve entitled Perry Street .
With Kickstarter, if you do not meet your goal you do not receive any funds. It's all or nothing, so any and all support is greatly appreciated. Thank you! Click here to view the page.



Steve Wilson/Lewis Nash Recording Released August 5th
Released! MCGJazz has released the debut recording by Steve Wilson/Lewis Nash Duo. Duologue's 11 tracks are well chosen to illustrate the range Wilson and Nash are capable of achieving. The two virtuosos achieve a rare connection throughout this recording, one that listeners will easily embrace along with them.
Read the full press release