Steve is Nominated to Two Jazz Journalists Association Awards
The JJA has announced the the 2017 Nominations, and Steve has been nominated in two categories: Best Alto Saxophone and Best Soprano Saxophone. Winners will be announced online on Monday, May 15th at www.jjajazzawards.org. "I'm happy to be a part of the conversation," said Steve.
Catch Steve at the last gigs of 2016!

As the year draws to a close, Steve is keeping busy as usual. Come on out and say good-bye to this very challenging year with some great music:

Nov 22 and 23 at Jazz Standard in NYC with the Maria Schneider Orchestra
Nov 25 - 27 at the Blue Note in NYC with Chick Corea and Origin II
Dec 2 - 4 at Smoke Jazz Club in NYC with Wilsonian's Grain (featuring Orrin Evans, Ugonna Okegwo, and Nate Smith)
Dec 9 at the Massry Center for the Arts with George Cables and Ira Coleman
Dec 29 - Jan 1 at the Umbria WInter Jazz Festival with Lewis Nash

Wishing you a musical and happy holiday season!




STEVE WILSON & WILSONIANS GRAIN
LIVE IN NEW YORK: The Vanguard Sessions.
Random Act Records
RELEASE: MARCH 23, 2015
"Wilsonian's Grain is jazz at its finest – in conception, execution and spontaneity." WBGO Radio




8/26/2017
Sapporo City Jazz Festival, Sapporo, Japan

8/28/2017 thru 8/31/2017
Blue Note, 6-3-16, Minami-Aoyama Minato-ku Tokyo 107-0062 Japan

9/2/2017
Tokyo Jazz Festival - NKH Hall, NHK Hall 2-2-1 Kanan, Shibuya-ku Tokyo

9/8/2017 thru 9/10/2017
Smoke Jazz Club, 2751 Broadway New York, NY 10025

9/19/2017 thru 9/23/2017
Blue Note, 131 W. 3rd St New York, NY 10012 212-475-8592

9/26/2017 thru 9/30/2017
Blue Note, 131 W. 3rd St New York, NY 10012 212-475-8592

10/3/2017
The Warehouse, Fairfield, CT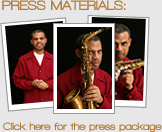 "a complete lyricist and adventurer as an improviser... He interprets my compositions as I would have myself if I played his horns."
Chick Corea, Rendezvous In NY