Wilson Joins the Yamaha Family of Artists
Yamaha has signed Steve to join their elite family of artists ?Having Steve Wilson on our team is a dream come true for Yamaha. His artistic mastery as a performer and educator, are second to none. It is truly our honor to call Steve Wilson a Yamaha Performing Artist.? John Wittmann, Director, Artist Relations, Yamaha Artist Services Indianapolis.
Wilson Appointed Associate Professor at City College
Wilson is proud to accept an Associate Professorship at The City College of New York (CCNY) in Harlem, NY. The position includes teaching ensembles, classes, and guiding the jazz department as they further develop the jazz curriculum. Wilson begins the full-time, tenuretrack position, in September 2013. He joins an illustrious faculty including Adam Cruz, Mike Holober, Scott Reeves and Ray Gallon.




8/2/2014 thru 8/9/2014
Brubeck Institute, Sierra Nevada College Incline Village, NV

8/13/2014 and 8/14/2014
,

8/18/2014
Smalls, 183 W 10th Street NY, NY 10014

8/24/2014
Tanglewood, Lee, MA

8/27/2014 thru 8/30/2014
,

9/2/2014
Macau Cultural Center, Macau, China

9/7/2014
Tokyo Jazz Festival, Tokyo, Japan

9/20/2014
Monterey Jazz Festival, Monterey, CA

10/9/2014 thru 10/12/2014
Jazz Standard, 116 E. 27th Street NY, NY

10/17/2014
Side Door Jazz, 85 Lyme St, Old Lyme, CT 06371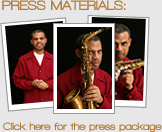 "a complete lyricist and adventurer as an improviser... He interprets my compositions as I would have myself if I played his horns."
Chick Corea, Rendezvous In NY