Steve's New Recording Coming March 24, 2015

There's BIG news on the recording front for Steve! His second Kickstarter campaign was a success, 214 people pledged a total of $11,938. Because of this generous support, Steve can now take the next steps towards releasing the CD, entitled Steve Wilson & Wilsonian's Grain Live in New York: The Vanguard Sessions. It will be released on March 24, 2015 by Random Act Records.
There are seven tracks on the recording: Well You Needn't (Thelonious Monk), Spot It You Got It (Orrin Evans), Chrysalis (Wilson), Perry Street (Wilson), Spheresophically (Wilson), If I Were A Wind of Spring (Migiwa Miyajima), and Patterns (Joe Chambers).
Steve's concept for this recording was to capture that warm, wonderful sound at the legendary Village Vanguard, so the listener at home can feel the energy, the excitement and clarity you get during a live performance there. The only thing better is you can sit in your favorite, most comfortable chair as you listen! The tracks are presented just as he would do for a live set.
More information soon on where to purchase your copy.



Steve Wilson/Lewis Nash Recording Released August 5th
Released! MCGJazz has released the debut recording by Steve Wilson/Lewis Nash Duo. Duologue's 11 tracks are well chosen to illustrate the range Wilson and Nash are capable of achieving. The two virtuosos achieve a rare connection throughout this recording, one that listeners will easily embrace along with them.
Read the full press release




2/27/2015 and 2/28/2015
Jazz @ Kitano, 66 Park Avenue, East 38th St New York NY 10016

3/1/2015
Smoke Jazz CLub, NYC

3/7/2015
Shalin Liu Performance Center, 37 Main St Rockport, ME

3/15/2015
Jazz Standard, 116 E 27th Street NY, NY

3/20/2015
Western Michigan University, 1903 West Michigan Avenue Kalamazoo, MI 49008

3/22/2015
Nighttown, 12383 Cedar Road, Cleveland, OH 44106 Cleveland Heights, OH

3/24/2015 thru 3/26/2015
University of MI, Ann Arbor, Residency

3/26/2015
Kerrytown Concert House, 415 North 4th Avenue Ann Arbor, MI 48104 (734) 769-2999

3/27/2015 and 3/28/2015
Green Mill, 4802 North Broadway Street, Chicago, IL 60640 (773) 878-5552

3/29/2015
Murry's, 3107 Green Meadows Way Columbia, MO 65203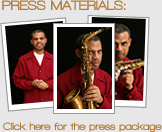 "a complete lyricist and adventurer as an improviser... He interprets my compositions as I would have myself if I played his horns."
Chick Corea, Rendezvous In NY